Dr. Stephen Ratcliff: Your Dentist in Arlington
Providing Quality Cosmetic Dentistry and General Dentistry Treatments
Dentistry is a perfect profession for a kid with a variety of interests and natural abilities. One who is creative, has an inquiring mind, a sense of humor, a perfectionist, and one who easily builds long-lasting relationships based upon caring and a listening ear.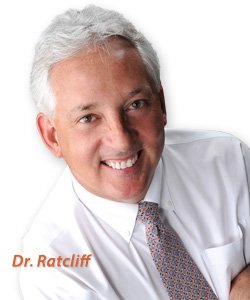 That's a great description of me as a youngster and how I am today. Through the years of practicing dentistry, I've channeled these innate attributes into becoming a scientist, teacher, psychologist, engineer and an artist. That's why my work as an Arlington dentist is both challenging and rewarding. The benefit of creating new smiles, comfortably and affordably, is simply astounding. The payback goes right to the heart. We all feel it in my office!
Since receiving my doctorate degree from Baylor College of Dentistry, I have continued studying to broaden my expertise far beyond the foundation of general dentistry and into cosmetic dentistry, restorative dentistry, prosthodontics, endodontics, periodontics and orthodontics so I can better serve as a dentist to the great people in Arlington and the Fort Worth area.
In my spare time, I enjoy spending time with my family, coaching youth sports, skiing, and capturing wonderful moments with the lens of a camera. But when I'm at my office in Arlington, dentistry is my complete focus, as it has been for a long time.
Arlington, TX, dentist Dr. Stephen Ratcliff is a leader among cosmetic dentists. Dr. Ratcliff focuses on continuing education to continue to provide the best knowledge, skills, technology and expertise dentistry has to offer. While he continues to excel as a cosmetic dentist, Dr. Ratcliff is also a family dentist making sure each member of your family receives the care they need throughout every stage of life. He provides that great combination of helping you feel your best as your family dentist and helping you look your best as your cosmetic dentist.
So whether you're looking for a family dentist to be your lifelong oral health partner or you're considering a complete smile makeover by an expert cosmetic dentist, you'll quickly discover the difference a great dental professional can make in your life—especially one who treats people, not just teeth. Come meet Dallas/Fort Worth dentist, Dr. Stephen Ratcliff for cosmetic dentistry, general dentistry and restorative dentistry treatments.
AFFILIATIONS
American Dental Association (ADA)
Texas Dental Association
Fort Worth District Dental Society
Related Content